COZY OUTFITS TO STAY HOME IN
Aside from weekly fit checks with my favorite jeans, I've been living in all the cozy outfits during the recent pandemic. If I'm going to be stuck in the house, I'm at least going to be comfortable, am I right? After about two weeks straight in my formerly favorite Anthropolgie sweatpants, they developed some holes that would not have been appropriate for our daily walks around the neighborhood, and so I have picked up a few new items to try to give a sense of style to my new uniform.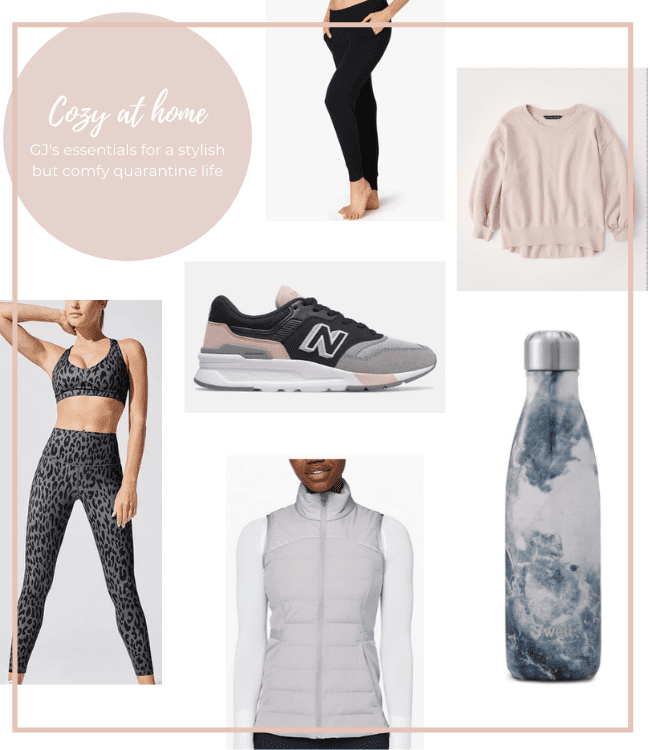 Joggers
These black joggers are insanely comfortable, super soft, and as flattering as a sweat pant can be. I love them, and have been wearing them almost non-stop since they arrived in my Trunk Box in March. Beyond Yoga Cozy Fleece Foldover Long Sweatpant, $99.
Sweatshirt
The balloon sleeves on this Soft AF blush sweatshirt make me feel like I tried at least a little bit to look decent for my family and the mailman. Abercrombie Soft AF Balloon Sleeve Sweatshirt, $49.
Sports Bra + Leggings
Fact: the cuter the outfit, the more likely I am to workout in it. I love this flattering and cute leopard set by Carbon 38. Leopard Full Length Legging, $98 + Leopard Contour Cross-Back Bra, $68.
Sneakers
Another Trunk Box find, I love the pop of pink in these, and that they go so well with the above-mentioned, mostly always wearing, blush and pink lounge outfit. New Balance, $75.
S'Well Bottle
We all know I love a good female founder story, and after listening to S'Well founder Sarah Kauss, I may never buy another brand again. Been trying to stay hydrated with this sweet blue one. S'Well Blue Granite 17oz Bottle, $35.
Vest
The last essential part of my daily uniform, this vest really helps hide the fact that I am not wearing a bra from my neighbors when I walk the dog or, again, the mailman. Lululemon Down For It All Vest, $148.
Are you actually getting dressed every day or have you fallen into a daily comfy uniform like me? Shoot me a message on Instagram @goodjane.co!