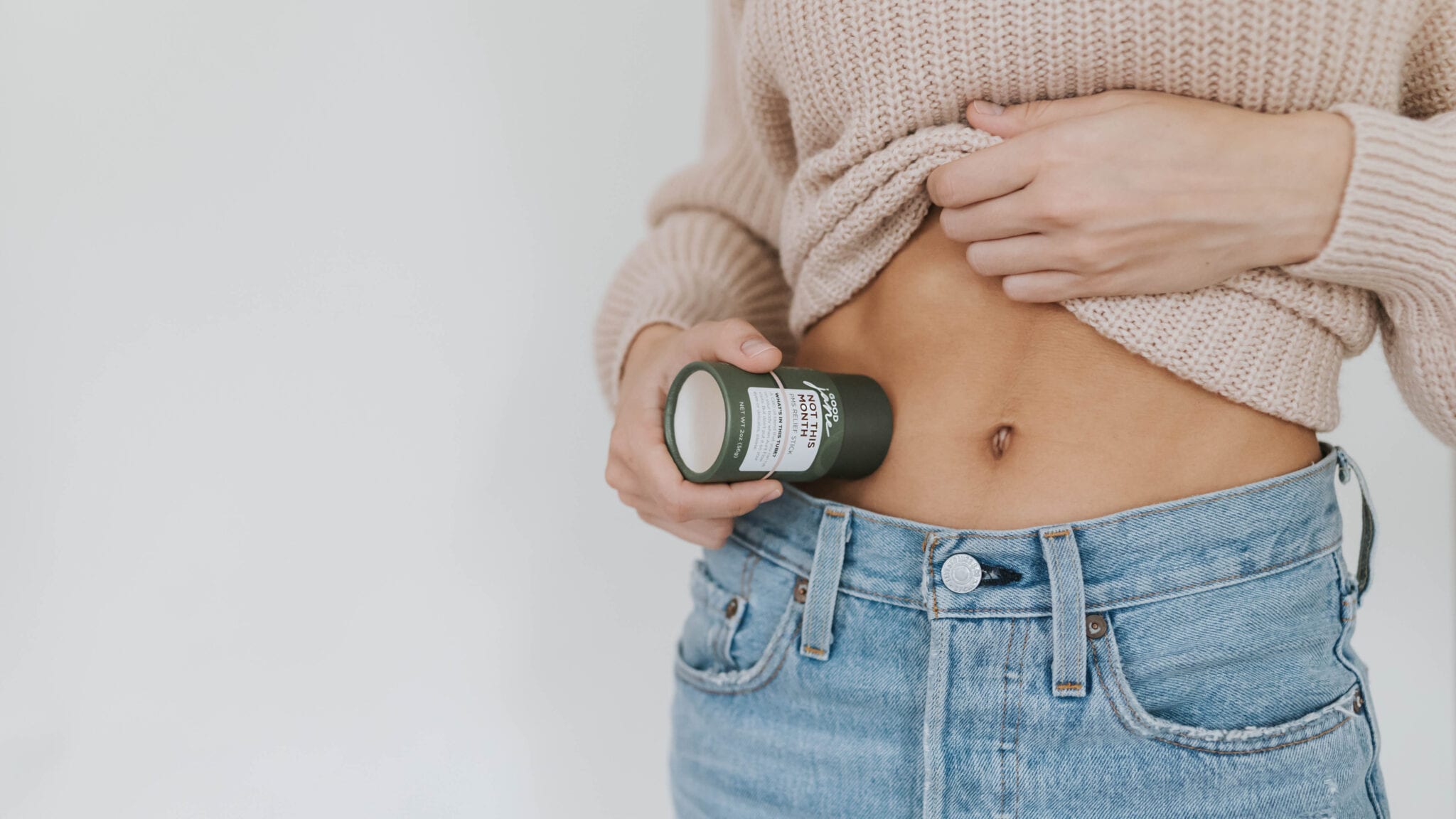 CBD products for cramps can vary significantly from one manufacturer to the next. If you're looking for an all-natural PMS or menstrual cramp product that does what it says, quickly and without any unwanted side effects, you'll love Good Jane's Not This Month Stick. Our CBD and Botanical infused anti-cramp stick Not This Month will keep you in the action without pharmaceuticals.
CBD products for cramps
Many women experience excruciating pain and other dreadful symptoms during their monthly flow. Too often, the pain doesn't just go away, and they need help to feel better. While conventional analgesics are a great option during these times, they tend to become less effective with time. Moreover, prolonged use of analgesics is known to cause dangerous adverse effects. If you are looking for drugs to help with menstrual pain, CBD products for cramps are worth considering. Research already supports the use of cannabinoids as analgesics, and many women have experienced great relief from using CBD for their menstrual symptoms.
How can CBD oil help with menstrual cramps and other symptoms?
Studies and use-case examples have shown that CBD works in different ways to reduce cramps and other PMS symptoms. Here are some of the possible mechanisms:
Reduce tenderness in the breast and lower abdomen 
CBD has natural anti-inflammatory properties, and it can help reduce inflammation in the breast and lower abdomen. The drug is thought to achieve this by regulating the cannabinoid receptor. If tender abdomen and breasts are your predominant PMS symptoms, you can use CBD capsules or massage the oil topically for quick relief.
Manage stress and anxiety
CBD can help the body deal with stress and anxiety. Studies have suggested that CBD may play a role in inhibiting the release of cortisol, the body's stress hormone. People with PMS experience a spike in this hormone, and this further complicates their response to the annoying symptoms. CBD products for cramps helps you stay in control of your stress levels and consequently leaves you unbothered about most of your symptoms.
Reduce pain and cramps
The analgesic property of CBD is well documented. Unlike conventional analgesics, CBD has very few side effects, and its effectiveness does not wane with time. Taking CBD products for cramps while on your period could be a great way to manage the accompanying pain.
Prevent the development of PMS
Some special CBD products for cramps are formulated to prevent cramps and other PMS symptoms rather than control them. You would be advised to take these products a few days before you start your period, and you have a better chance of experiencing a pain-free menstrual flow.
Where can I get CBD products for cramps?
When considering any CBD product for cramps, one of the most important factors to consider is the source of the product. It's vital to ensure you only get your CBD products from registered dispensaries or trusted vendors like Good Jane. That way, you can rest assured that you're getting quality products that are free of contaminants.
Shop Good Jane for CBD products for cramps
Are you looking for a reputable online store that guarantees the best CBD products for cramps? You wouldn't regret making Good Jane your go-to company. Our products are specially formulated to help women with menstrual cramps and other PMS symptoms. Visit our online store today, and you'll surely find a product that'll be effective for you.