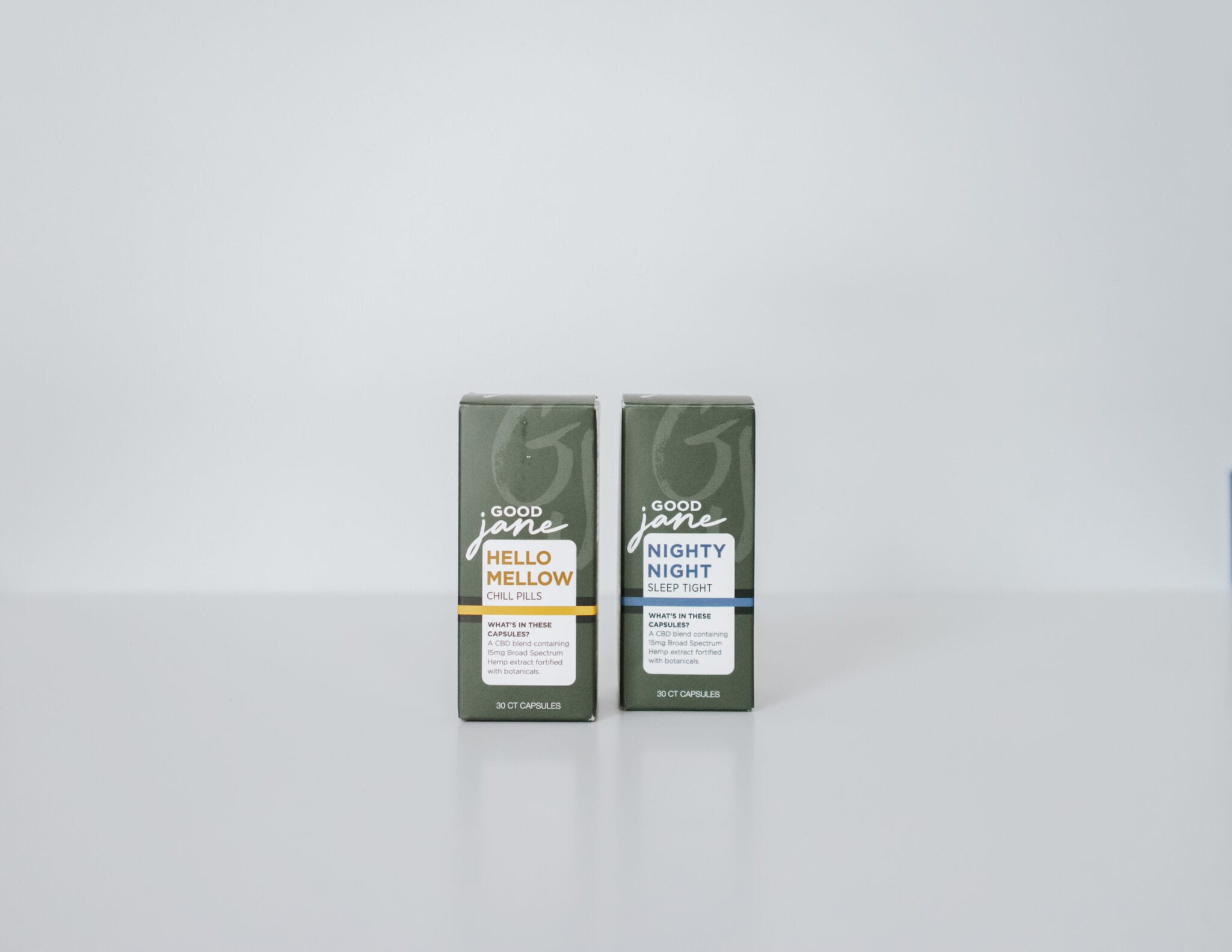 Forget the mask that comes with CBD creams and topical applications and try Good Jane CBD pills. Consuming CBD Brings fast relief, and now you don't have to worry about correct dosage. Whether you need fast relief from pain, or an oral supplement that addresses anxiety or depression quickly, our CBD pills are the perfect option.
When you buy CBD pills from Good Jane, you should consider adding the Hello Mellow capsules to your cart. Hello Mellow CBD capsules contain fifteen milligrams of CBD per serving, and they are designed to be taken daily.
High levels of anxiety and stress can take a toll on your mind and your body. Hello Mellow pills have the power to chill you out without putting you to sleep. Mental rest and physical relaxation are vital components of self-care and general wellness.
Each jar of Hello Mellow CBD liquid capsules has zero presence of THC, which is the euphoric component of cannabis. Thirty pills created with broad-spectrum CBD that is blended with time-tested botanical herbs naturally are available for a one time purchase or as a subscription for less than fifty dollars per month. Users love that each Hello Mellow purchase gives them reward points to use at Good Jane.
The Constant Fight Against Insomnia
People diagnosed with insomnia find themselves taking extra measures to put themselves to sleep. Luckily, Good Jane has recently released their Nighty Night capsules. Each jar of Nighty Night capsules contains fifteen milligrams of premium grade CBD naturally derived from hemp plants. Thirty tablets come in every purchase at a price of lower than fifty dollars. In addition to containing fifteen milligrams of premium CBD, the Nighty Night capsules are also made with three hundred eighty-five milligrams of herbal blends, such as Lemon Balm.
The Nighty Night capsules are highly rated by users from across the nation and the globe. Hops, Valerian Root, and Passionflower also is blended into the pills to promote sleepiness without inducing long-lasting feelings of grogginess. Just like the Hello Mellow pills, these CBD pills contain no THC, and they are eligible to receive purchase bonus points for clients to use later. It is possible to subscribe monthly or quarterly for Nighty Night capsule delivery straight to your home.
CBD Tablet Bundles Available
Those who want to get the most from their CBD regimen should consider purchasing the Nighty Night and Hellow Mellow bundle. When clients buy the bundle package, they can experience extra savings and bonus point rewards. The bundle package includes the Hello Mellow capsules, as well as the Nighty Nighty capsules. When ordering a subscription for the bundle package, clients can rake in even more savings.
A well-rounded CBD regimen can help you gain the most benefits without spending a lot of money. The bundle package creates an ideal organic routine that produces significant results you can see in real-time.
Relieving Pain and Menstrual Cramps With Topical Creams
At Good Jane, we proudly offer CBD based pain relief cream for menstrual cramps. While our CBD cream is ideal for menstrual use, it is also useful in relieving joint pain, back pain, and neck pain. The pain relief cream available at Good Jane contains natural herbs blended in with the naturally derived CBD components.
Ginger, Willow Bark, and Cayenne are just a few of the organic ingredients included in our CBD based pain relieving cream. Contact us now for more information. You can click here to start shopping for our long line of CBD dosage products for adults.