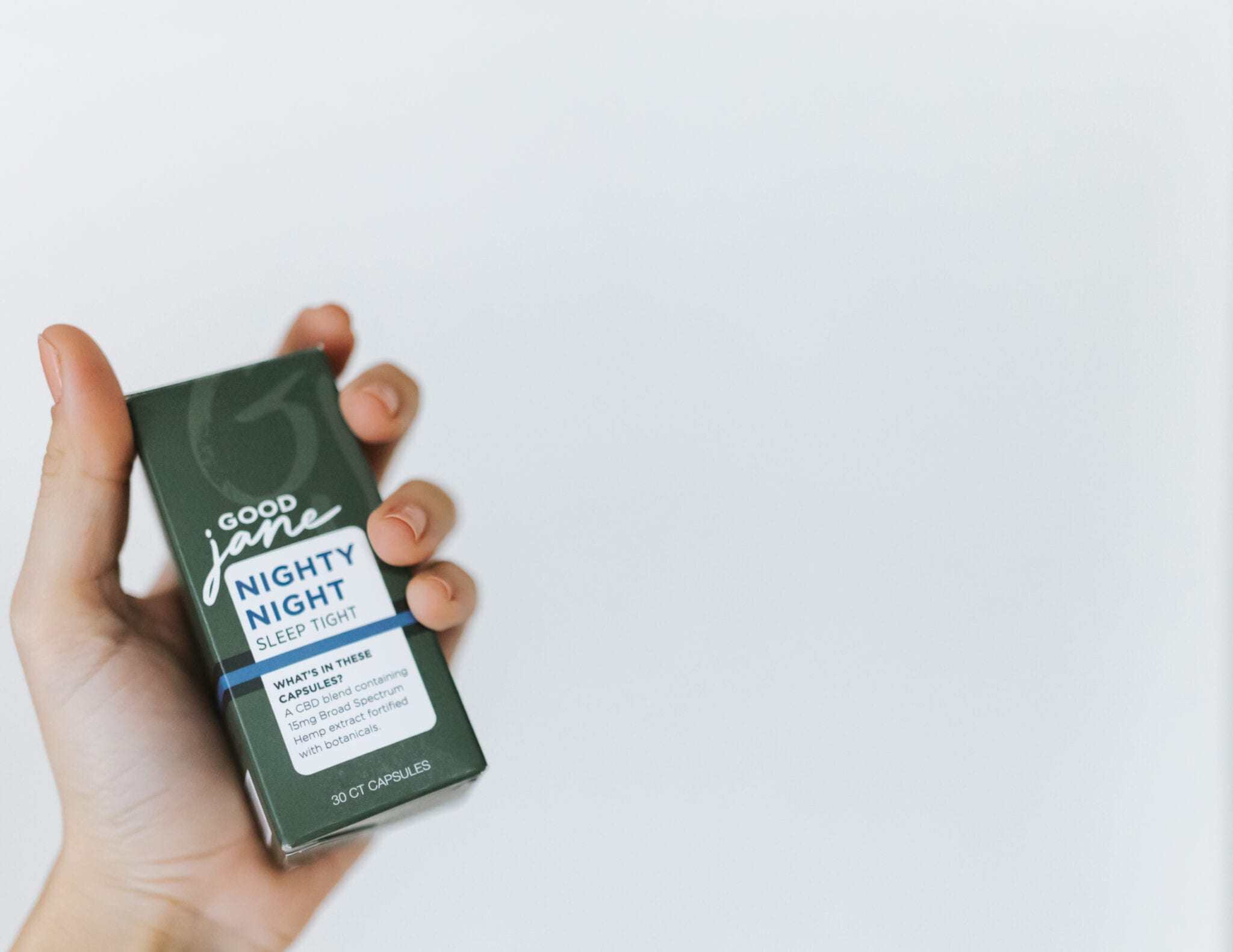 Who makes the best CBD for sleep? Our customers at Good Jane tell us that our products are the perfect supplement when sleep seems elusive. CBD is much safer than taking a prescription sleeping pill because you will not experience any adverse effects from using our CBD. Try Good Jane CBD for the best sleep of your life!
Since CBD products have become popular, it is easy to find them just about anywhere. Research has shown, however, that a number of companies are dishonest about what is actually in their products. Hemp Seed Oil, for example, contains no CBD, therefore does not have any of the same benefits, but makers rely on your confusion to trick you into buying a cheaper product.
Finding the best CBD for sleep starts with shopping at Good Jane. Multiple CBD products in our lineup can help promote healthy sleep schedules and patterns, such as capsules. Capsules are an easy way to create a new CBD regimen without experiencing any adverse side effects. At Good Jane, one of the hottest CBD capsules for insomnia is the Nighty Night capsules.
The Nighty Night CBD pills from Good Jane contain fifteen milligrams of broad-spectrum CBD mixed with an in-house blend of other sleep-inducing botanicals that is one of a kind. In addition to CBD, the capsules are packed with an proprietary blend of Valerian Root, Hops, Passionflower, and Lemon Balm.
Each jar contains thirty capsules at a price of no more than fifty dollars, but a subscription price is also available. With the subscription, customers can have a monthly supply automatically shipped to their home each month. Plus, shoppers can gain two hundred fifty reward points they can use to save on future purchases.
Other Popular CBD Products for Sleep at Good Jane
Besides CBD capsules, you can also find CBD oils, creams, and powders at Good Jane that can help with sleep. Most people don't get the required eight hours of sleep that they need to flourish. It isn't uncommon for adults to receive as little as four or five hours of sleep each night, which is not nearly enough. To quickly promote sleepiness, shoppers are urged to explore the Balance Oil 720 at Good Jane.
Balance Oil 720 is an all-natural CBD product that does not contain any THC. Just like the Nighty Night capsules, the Balance 720 is available for a monthly subscription. The oil is applied directly under the tongue to induce sleepiness and improve moods. A liquid dropper is used to help control the dosage of each user.
Helpful Sleep Bundles for Maximum Results
At Good Jane, you can purchase sleep bundle products with CBD, such as the Lights Out bundle. In the Lights Out bundle, shoppers receive a jar of the previously mentioned Nighty Night CBD capsules, as well as the Pain, Pain, Go Away cream. This bundle costs less than one hundred dollars, and the cream is applied without your hands.
Another bundle for sleep wellness at Good Jane includes the Big Night In bundle. With the Big Night In bundle, users can expect to receive a jar of Nighty Night capsules with CBD, a body cream to relieve pain, and a hemp bath bomb. This widely popular bundle can help you rest while you soak up the benefits of CBD products.
Premium CBD Products at Astonishing Reasonable Prices
At Good Jane, customers can expect top of the line CBD products from many brands. Adults need a helping hand to take care of themselves, which is where these CBD products come in handy. Save money while improving your sleep quality by considering the products mentioned, such as the CBD Nighty Night capsules or bundles.